Welcome! I'm Sal Ajro. Friends call me the "Chief of Pizza Fire Trucks" in Connecticut. That's me- with my daughter Amber and Senator Richard Blumenthal-on your left. We recently delivered pizza in our fire truck to the frontlines of New York City (Spectrum News NY1, May 2020)

If you want great pizza, now I can bring it to you! I have converted a real fire truck into a mobile kitchen with a true wood-fired brick oven.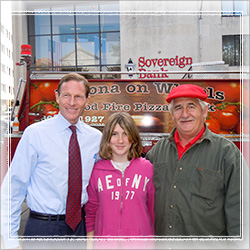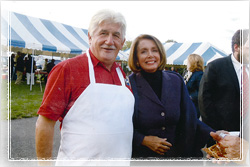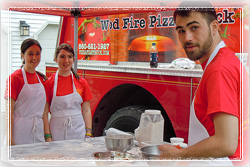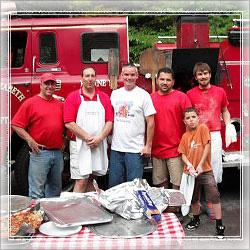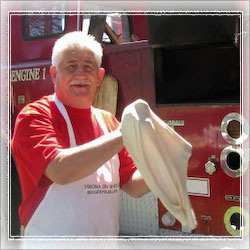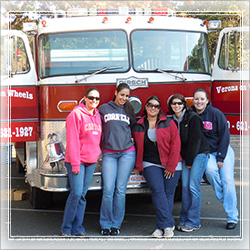 This mobile restaurant has a wood-burning brick oven in the heart of the truck, so we can provide freshly baked, delicious pizza in the parking lot of your corporation, in the driveway of your home, or at your next charity or sporting event.
Pizza Catering at its best! Our Red Fire Truck has it's own power, so it can serve hot pizza anywhere:

Corporate events, charity events, sporting events, family reunions, graduation parties, tailgate parties, & birthdays!

It is the wood-fired brick oven that makes my pizza so special. No one else offers a taste like this from an oven like this. Our
Red Fire Truck
is special for any event!
.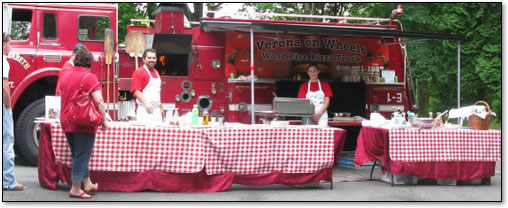 If you have a party planned for 50 people-or an event planned for up to 500 people-the "Pizza Fire Truck On Wheels" experience can be yours! (There is a no additional travel fee for areas within 10 miles of our Waterbury CT location).

Sal will bring the fire truck to you. The sirens will be going! The wood-fired brick oven will be smoking! The smell of our award-winning pizzas baking in the oven will make your mouth water!

-Wood-Fired Brick Oven-
-Freshly Baked Pizza-
-A Real Fire Truck!-

Serving the BEST Pizza Around!
Verona Pizza
Reserve your Fire Truck
Pizza Party Today!!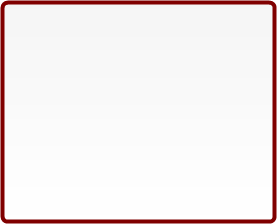 (tel):
860.997.7605
or
203.591.1923
"Our Fire Truck Comes to You!"
See Our:
Our Red Fire Truck has it's own power so it can serve hot pizzas anywhere in-and around-Connecticut!

Call today for rates and dates.

Great pizza baked in the Fire Truck!
A wood-fired brick oven right in the truck!

The best pizza you'll ever have!

My telephone number is (203) 591-1923 & my name is Sal and I make pizza like you would not believe!